Happy Clients. Happier Photographer.
---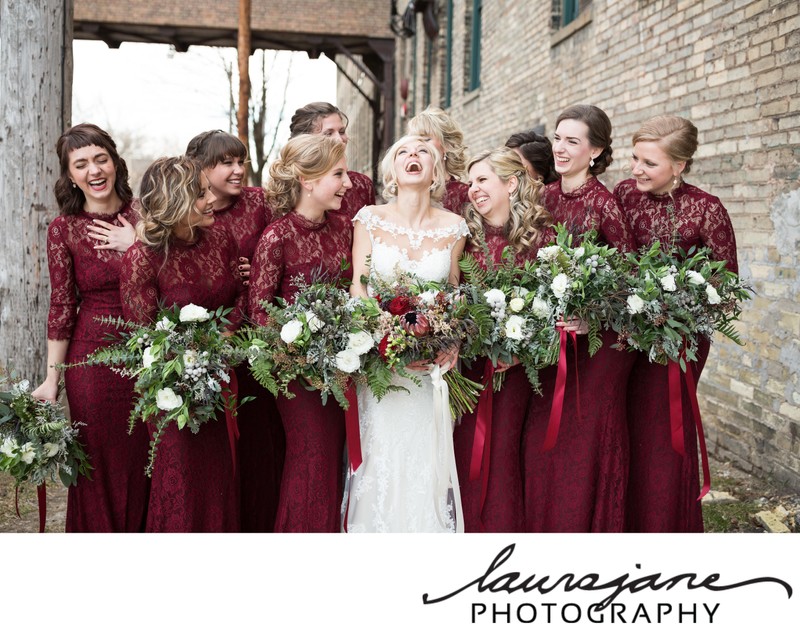 More (& probably more current) reviews can be seen under my Google Business Storefront here!
---
Novi, Michigan Wedding - Sarah & James
Sarah: "LauraJane Photography is absolutely fantastic. my husband and I contacted her last minute for our engagement photos in the fall of 2016 and she was able to accommodate our request and shot our photos the next week! After falling in love with the pictures (and Laura) it was a no brainer that we wanted LauraJane Photography to do our wedding photos, even though that meant bringing Laura to Michigan. She was GREAT. She did not ind traveling to MI for the wedding, and worked so hard the entire day to make sure we got amazing photos. Everyone that has seen our album has said "Your wedding photos are the most beautiful wedding photos I've seen!" It's all thanks to Laura that we will have these memories encapsulated for a lifetime. I am excited to hire LauraJane Photography to capture other milestones!"
Wedding at The Florian - Germantown, WI - Allie & Nick
Allie: "If you're looking for a quality photographer who is kind, affordable, goes above and beyond for her clients, and takes AMAZING photos please use Laura! We used Laura for both engagement and wedding photos and my husband and I couldn't be happier! I can't stop looking at them. Laura Uses lots of natural light and her slight editing to pictures make everyone and everything in the pictures look flawless. She works very closely with you to get an understanding of what you want - especially on your wedding day and she knows what to do the day of. She follows your photo checklist day of the wedding and will ensure all your needs are met but then she will get tones of extra special pictures as well. I just loved using her as a photographer and I recommend her to everyone I know who has photography needs! I chose Laura over a big photography company because she made me feel comfortable. She made everything so personal for us - she even sent a cute handwritten note when she sent us our final pictures. She is great! USE HER FOR YOUR BIG DAY! You will not regret it!"
Hilton Milwaukee City Center Wedding - Sara & Donny
Sara: "I was overwhelmed when it came to selecting a photographer. There were so many and it was one of the most important decisions we would make for our special day. You want a good value but without sacrificing quality. In the midst of a failed engagement shoot and hours of researching online, an acquaintance of mine posted their wedding photos online. I was in love, she had captured the beautiful magic of a quaint intimate wedding. After meeting with Laura and enjoying her bubbly personality, I knew I found the right one. She was very supportive in the process of figuring out what photos to take, creative, and made hours of photos fun and engaging! We really felt like she was a close friend taking pics and her assistant was great too! She was all over our wedding trying to capture it all herself that even a guest at the wedding said wow she's really a wonderful photographer. When we got them back, we couldn't have been happier. She made our wedding day come to life all over again in our photos and immediately took us back to that beautiful day. We would wish her all the best on her professional journey but I don't think we need to, she's already done so well. I highly recommend Laura to capture any special moments in your life!"
Silver Spring Golf & Banquet Center Wedding - Menomonee Falls, WI - Amber & Sal
Sal: "Laura was our wedding photographer in Sep 2018. She did an amazing job and made the photo shoot so much fun. She was very flexible with time and the missing pants lol, but she also kept us on track for the day. She took many amazing photos and we appreciate her perfectionism. We will definitely use her business in the future."
Wedding at The Stonehouse Villa - Driftwood, TX - Katie & Joel
Joel: "Laura's been my family's photographer of choice for quite a few family events throughout the years. I convinced my now wife that it was worth it to fly her out to Texas for the event and after the day she agreed that it was well worth the extra expense. Not only is Laura technically sound in her shots and composition but her personality excels at bringing out natural laughter from her subjects both young and old. I can't recommend her highly enough!"
Mukwonago Backyard Wedding - Lindsey & Ron
Lindsey: "Laura went above and beyond our expectations as our wedding photographer-- I couldn't recommend her more! She is super easy to get ahold of, responds quickly, and really knows her stuff. Very reasonably priced for the amount of hard work and passion she puts into each wedding, you can tell she loves her job and takes serious pride in what she does. We got back over 1000 edited photos, capturing memories that we will cherish forever. We cannot thank her enough, and recommend her 10/10!"
Wedding at The Rock Sports Complex - Emilee & Justin
Emilee: "Laura was an absolutely amazing photographer to capture our wedding day! She helped us loosen up and have fun for our engagement pictures and the sneak peaks I saw so far of our September wedding are gorgeous! I can't recommend her enough. She is up for anything and does whatever she can to get the best pictures for the special day, including getting bitten alive by mosquitos, getting the attention of our 20 person wedding party, and climbing up the side of a ski hill to get amazing sunset pictures. I truly can't thank you enough and highly recommend Laura for anyone else's upcoming weddings!!"
Wedding at The Rotunda - Waukesha, WI - Rachel & Michael
Rachel: "Laura is extremely wonderful to work with. I can be aggressive and I think looking back I took some wedding stress out on her in the beginning when we were working out the wedding contract. She was amazingly polite and patient in explaining her pricing (which is VERY fair for her quality of work). She still made some suggestions on what package deals and such that would help the cost come down a bit. On my wedding day, she was not pushy at all. Our wedding day schedule got messed up and she smiled and worked with it. I was dreading photos because of family dynamics which she was professional in handling. I usually hate being in front of the camera, but she made me love it that day. I've met very few vendors who are so good at giving quality service and being so gracious and understanding with their clients and yet still able to run a business."
(... And 2nd review from Wedding Wire...)
"The dynamics of our winter wedding day were stressful and Laura handled everything with extreme professionalism. She squeezed in some boudoir shots before I was in my dress and she stayed at no extra charge past her contract time to take pictures of us leaving with sparklers. It was also negative 20 degrees and the outdoor pictures she managed to capture in the freezing weather are some of my favorites. She's extremely polite and professional. Well worth every dollar."
Terrace 167 Wedding - Richfield, WI - Denise & Brady
Denise: "All you have to do is look at her work and know she is amazing! I seriously want to cry every time I look through our pictures. She captured so many beautiful moments and I feel like I can relive our wedding day every time I look through them! Couldn't be happier!"
Lincoln Park Engagement Session - Chicago, IL - Erin & Nate
Erin: "I cannot recommend Laura highly enough. She shot our engagement photos and the first thing that comes to mind is above and beyond. She traveled to meet us in Chicago and knew about the best locations to get beautiful and varied pictures. She was so flexible and made us both feel at ease (even my picture-shy fiance!). She really captured the fun of our relationship and made us look fantastic while also still looking like ourselves. She's incredibly communicative and so mindful of little details that could easily get missed. I can't wait for her to shoot our wedding next November and will be recommending her to all of my friends/family."
Ballet Portraits & Baby Portraits - Laura (Mother of Anneliese & Grandmother of Aaliyah)
Laura: "Absolutely wonderful photographer! We've had two sessions with her (baby pics and specialty pics of my teenage ballet dancer) and we couldn't be happier. She's very professional and so good with kids. She always responds very promptly to emails and makes the entire process seamless and stress-free. All of our photos were just stunning! Her prices are so reasonable that I'm trying to find a reason for another photo shoot! "
Wedding at The Chandelier Ballroom - Hartford, WI - Emily & Josh
Emily: "Laura was absolutely amazing! Down to earth but still professional, she put my husband and I at ease during both our engagement session and on our wedding day. Laura was always prompt in responding to my (many) questions, and offered awesome tips throughout the planning process to ensure our big day went smoothly. We had a beautifully sunny wedding day in August, and even with all that sun our photos turned out beautifully (she took care to find the perfect lighting without creating shadows or those dreaded squinty-eye faces!). We were so lucky to have had Laura for our wedding day. She also did my brother and sister-in-law's wedding in October 2016. Her photos are amazing and something we will cherish forever. We received amazing quality photos without sacrificing quantity (we have so many photos from our day!!). Laura also worked incredibly well with the videographer we hired for our wedding, which again helped our day run so smoothly. I would recommend her to anyone looking for a talented, young, and enthusiastic photographer that clearly knows what she is doing! I am excited to work with her again for our friend's wedding this coming September, and can't wait to see more of her work!"
Milwaukee Courthouse Elopement - Milwaukee, WI - Molly & Aaron
Molly: "I wish I could come close with words of how I feel about Laura and the work she did for us. I contacted her late 2017 asking her for a 2019 wedding date. With no hesitation she immediately responded and broke down everything she offered in simple terms. Plans quickly changed for us and we decided a whole year earlier we wanted to pass on the big stressful wedding and run down to the courthouse and call it a day. Literally 2-3 weeks prior to our "one year until we say I do"- I contacted Laura again explaining our plan. Again, without hesitation and a couple laughs, she agreed to be there and still capture our day. It was a hot, HOT, humid, July Thursday afternoon. The AC and elevators were down in the courthouse. And anyone who knows downtown Milwaukee on a weekday at 2-3pm knows it is a mess, but you would never know any of that seeing the work she did. She was with us for about 4 hours and still turned around well over 700 photos. Seven. Hundred. Photos. Of a courthouse wedding!!! Yup. To be able to relive the best day of our lives through the images she captured will always be a blessing. My family, friends, and husband cried and laughed all over again and we will continue to do so for years to come. She was funny, energetic, good with my pup, and the moments she captured were phenomenal. I wish this could explain half of my feelings for Laura. I can't wait to work with her again and would recommend her to anyone!!!!"
Richfield, WI Wedding - Joanna & Derek
Joanna: "Laura is a STELLAR photographer! She did our engagement, wedding, and newborn photo shoots. We love all the pictures and can't wait to see our newborn ones. She has a sweet, goofy, fun personality and is reliable, trustworthy, and works hard to produce pictures to your desire. We had difficulty with some of our wedding photoshoot because our wedding day in general was running behind schedule. It was getting really dark and started to rain. She continued to work with us through the rain and edited the dark pictures well enough that they all turned out nicely! Keep up the good work, Laura!"
Wedding at Davian's - Menomonee Falls, WI - Monica & Mike
Monica: "Our experience with LauraJane as our photographer was fantastic! From the very first meeting until the day, she showed great responsiveness and attentiveness to everything we wanted to be captured. I was lucky enough to have seen her work on a couple of my friend's weddings and see her true professional but bubbly personality. Definitely would work with her again on our future family photos. Thank you LauraJane for capturing such a special day in our lives!"
Watertown Wedding - Ashley & Josh
Ashley: "We enjoyed everything about Laura! She was so prompt in responding to our emails. Always kind and considerate. She was very professional at all times. Loved how she met with us first to go over things and then gave us "homework" to do but made us feel important and that we had choices/options with our photos. She made us feel so comfortable since most of us are camera shy with someone we don't know. She was amazing! Will definitely recommend and use her again in the future for family photos, etc. :) "
Simply Country Barn Wedding - Freedom, WI - Amanda & Kamil
Amanda: "HIGHLY RECOMMEND! Laura was amazing to work with. She was extremely kind, patient and hardworking on the wedding day! But, the real best part about choosing her was how amazing the photos turned out and how she didn't miss one important moment that night!"