A Little About Me – A Wisconsin-Grown Photographer
Based out of Waukesha, Wisconsin
Farthest Client Served Thus Far - Driftwood, Texas
---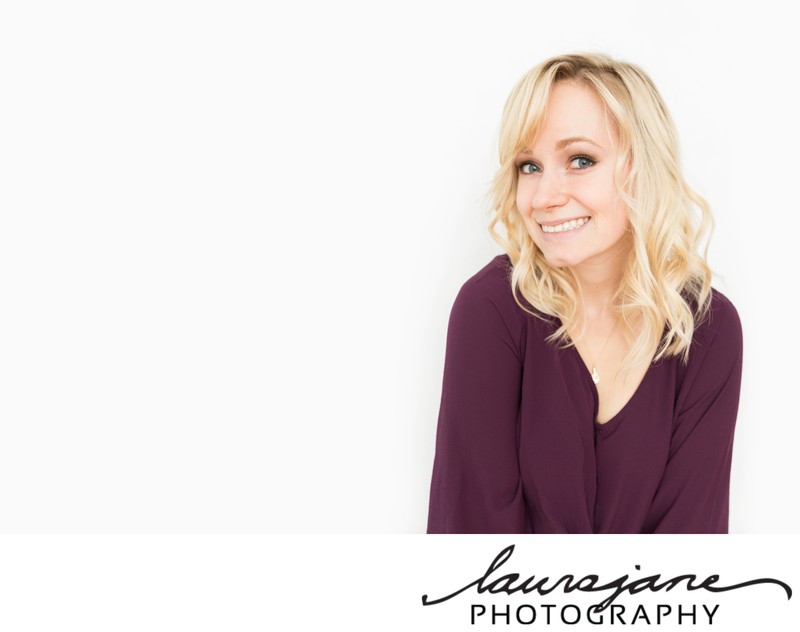 Joke was on me. I held my cat right before snapping this & didn't realize until afterwards that I was covered in cat hair so I had to spend some extra time in Photoshop.
---
.
Heyhey! I'm Laura – a photographer who doesn't bite! ;) As a person I love lazy days on Okauchee Lake, tacos, white rum, and preferably all those things together on a hot summer day! I currently live in this strange world where half my friends are married & having kids and the other half still parties like we're in college. My overall style "boiled down" is natural, minimalistic, & timeless and this greatly influences my photography. I'm bubbly, a little OCD, & generally over-prepared and I enjoy quick wit, clever jokes, & sass. This means that I'm a "you pick on me; I pick on you" type deal…. Just so that you're aware.
.
As a wedding & portrait photographer, I want to give my clients the best experience & photos possible and I'm constantly looking to better myself. (Like I literally can't watch a movie without trying to figure out how everything was lit etc. and most of the books I read are photography or business related haha!) For portraits, I strive to capture the fleeting along with those hiding bits of spunk & spark that is in everyone & their families. At weddings, colorful & natural pictures full of genuine expressions are my goal. You might be catching on already, but my ideal couples tend to be hilarious people who are occasionally romantic! I currently live in Waukesha, WI and am more than willing to travel! (Already having photographed weddings in the surrounding states and even across the country in Texas!) So, no matter where you are, don't hesitate to contact me! I'd love to get to know you, your partner-in-crime, family, fur babies, etc. and see how I can translate everyone's personalities into timeless photographs!
.
---
If you're supposed to trust me with your portraits, it's only fair that I show you some of mine, right? :) Here are some snapshots of me, the guy stuck with me, & my family!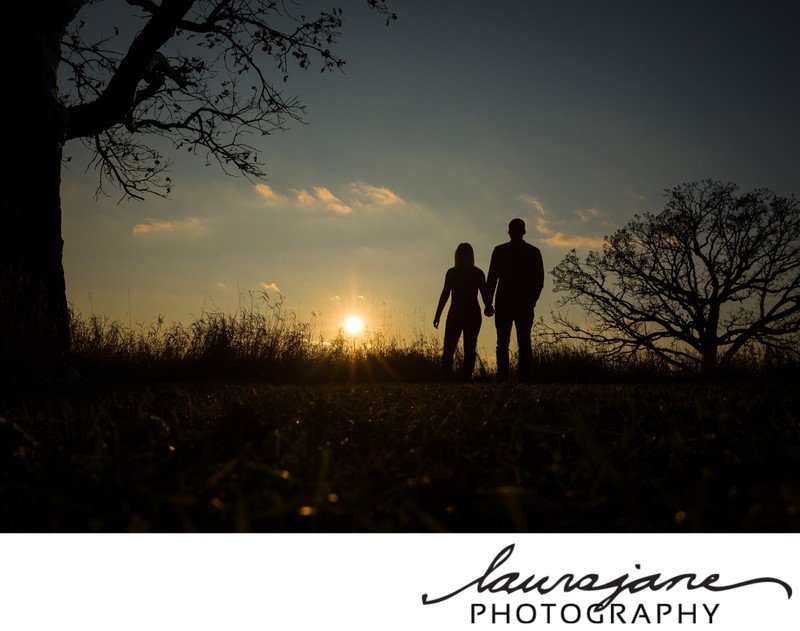 Me with my own love enjoying a hilltop sunset. This was in the middle of wedding season, but Matt always helps me pull away for a little bit - even if it's only for 30 minutes - to go for a quick walk or cuddle. I love him for the balance he gives.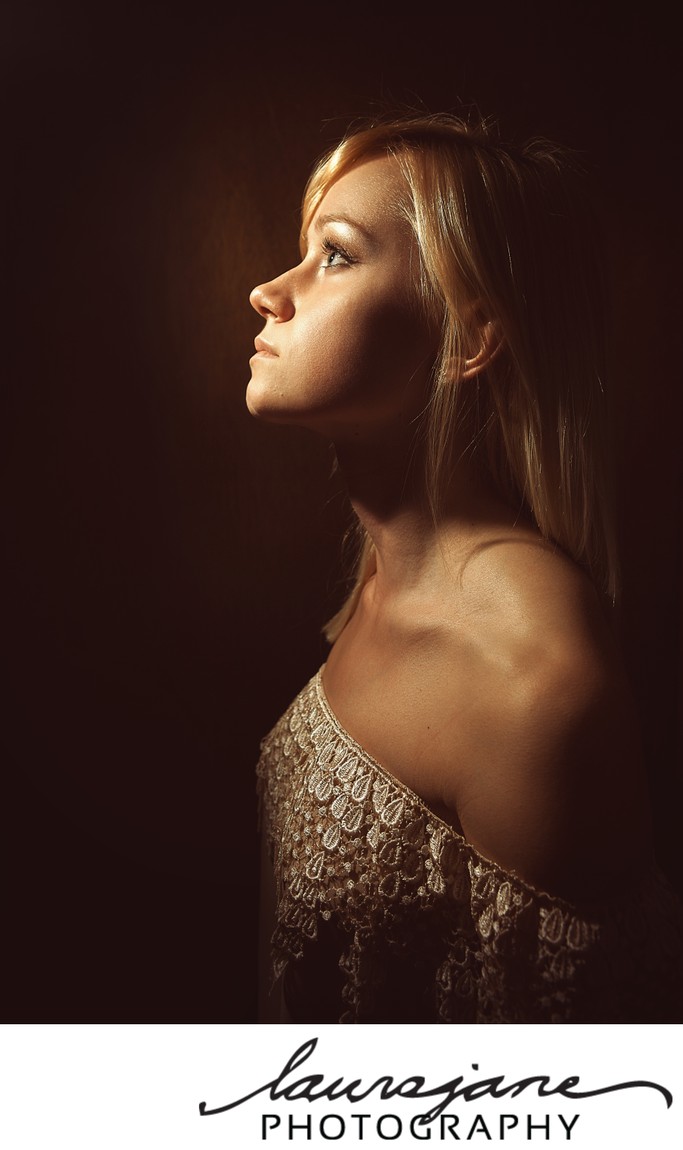 This will always be one of my favorite self portraits mainly for what it represents in my mind. I remember taking this against my sliding closet door after a 6-8 hour shift of waitressing...still trying to make the "photography thing" work while still paying my bills. I probably glow so much because of all the oil on my face from the restaurant kitchen & bustling around. ;P Anyways, it'll always remind me of the first years when I started playing around with artificial light and to always look forward to what's ahead.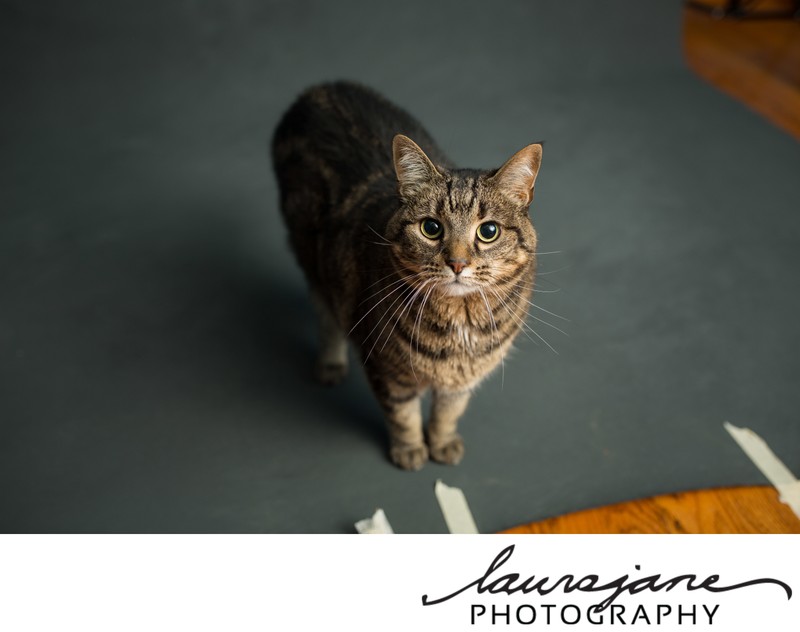 My first furbaby, Jinx. Always has to keep an eye on me & check out what I'm doing and sometimes tries to bother clients while they're in my studio. Superrr amusing when it's a boudoir client haha! (P.S. In case you're wondering, I rigorously clean, vacuum, and run an air purifier before photo sessions. If clients happen to have cat allergies that are manage-able it seems to work out! :) )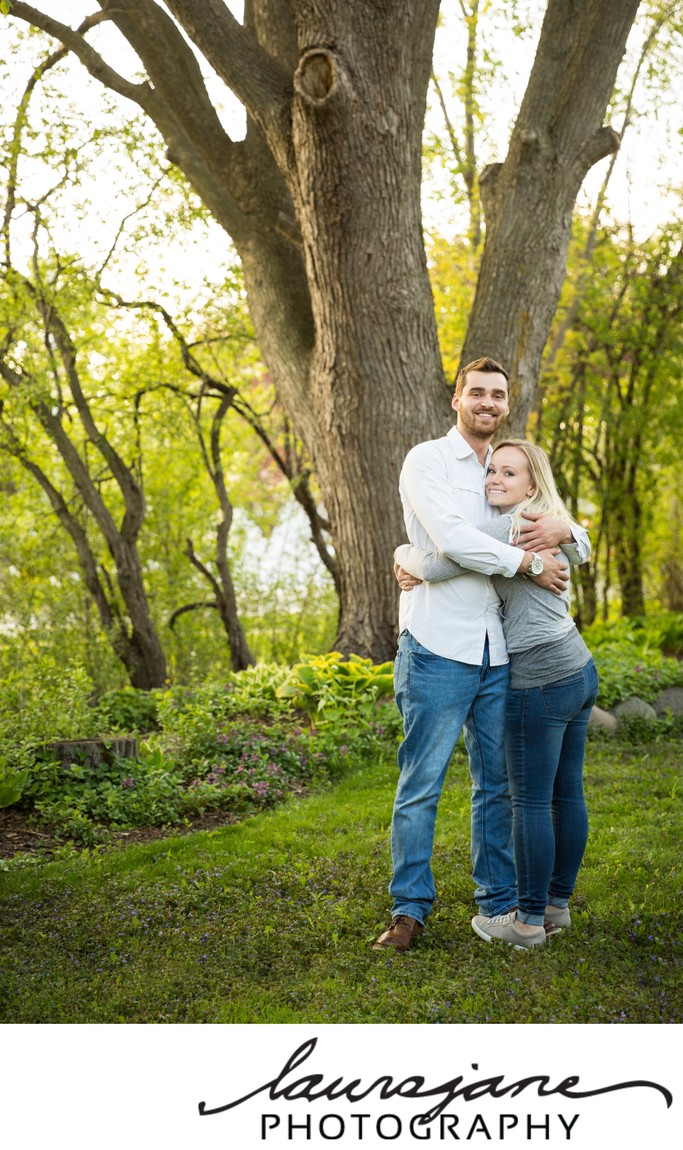 A run-n'-hug selfie I took of us in our backyard. It's now beautifully printed on fine art paper, has a dark walnut frame, and hanging in my dining room - the first picture up on my walls. :D By the way, I love giant old silver maples like the one behind us!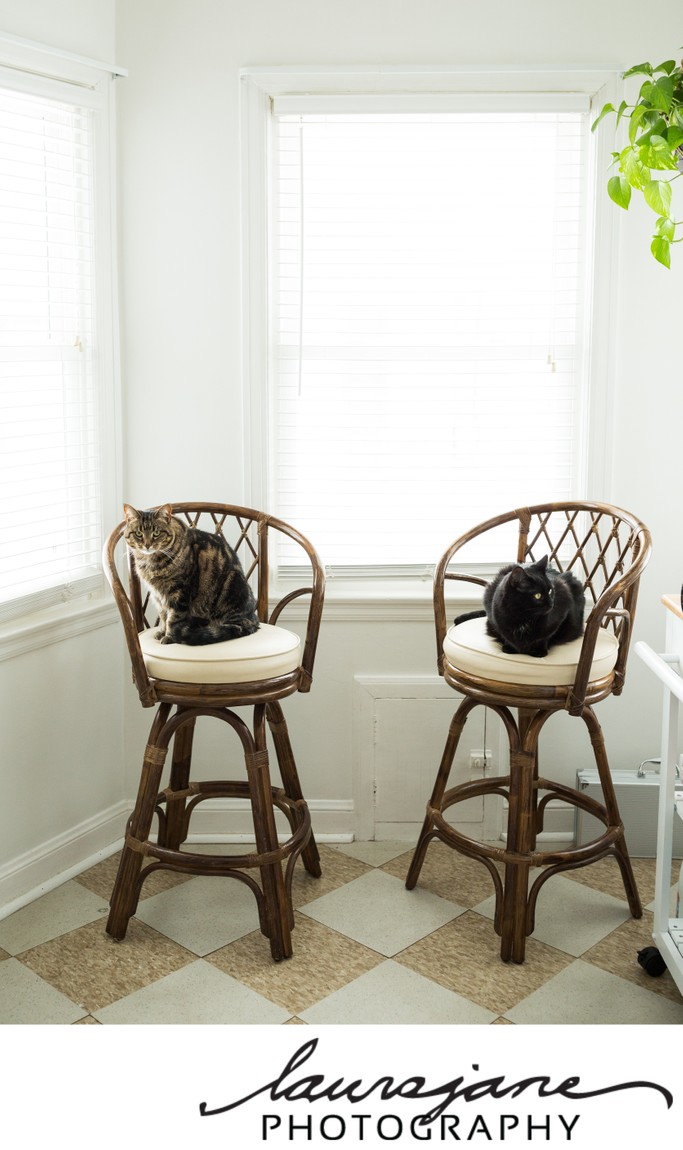 Just chillin' on my rattan furniture. Yes, my kitchen is so old it still has a milk door!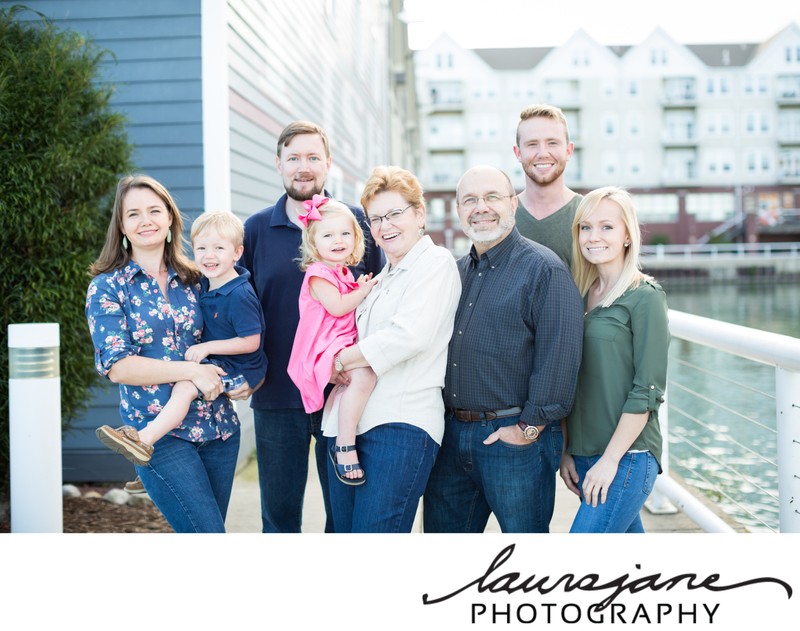 See the two in the middle? Those are my parents who helped me achieve my dreams! No, they didn't just let me go blindly after my career as an artist. They made sure I had practical safety nets in place and realistic goals to go after. Not many people know that I never actually went to school for photography but I DID go for two years in accounting until I was sure the photography gig was going to be sustainable (& yeah I know, it's odd for an artist to enjoy a math-based subject as well lol). Backup plans (aka I kept my 2nd and sometimes even a 3rd job until I was ready), proper budgeting, and a solid work ethic (got me through those 115 hour work weeks) were all things I learned from them.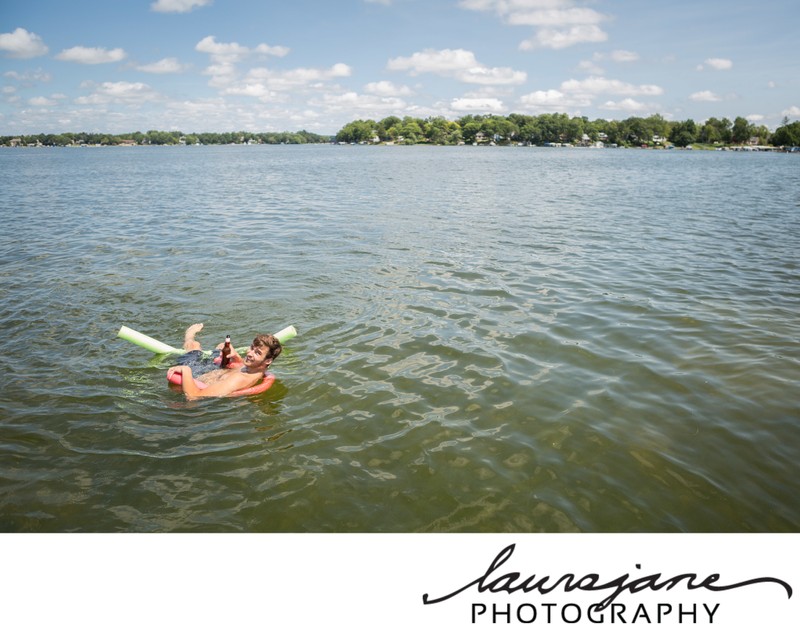 Lake life with this guy! This is often how I recover from photographing a long wedding.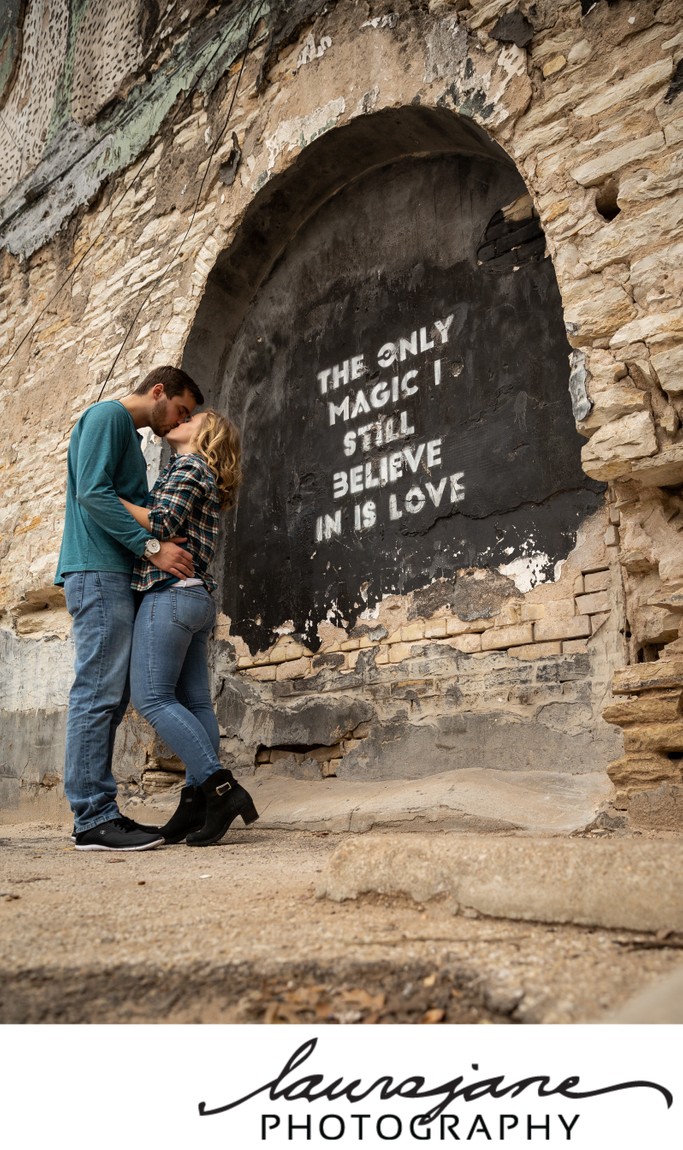 After photographing a wedding in Driftwood, TX, we had some time to check out the surrounding area. This was taken in Downtown Austin, TX right after a homeless man (for no apparent reason) told Matt to go suck on a bag of... something-that-rhymes-with-chicks. :P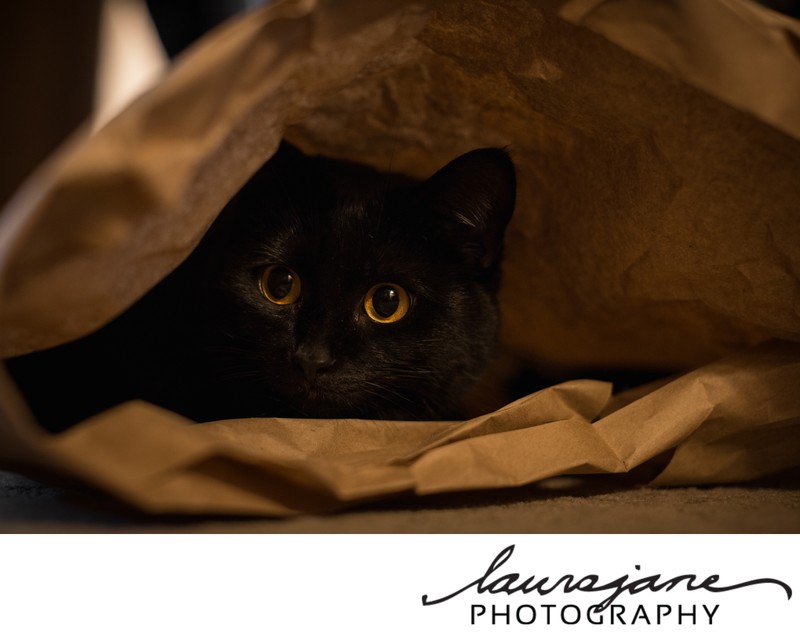 Zoey the Hunter. I'll never forget the time I came home after shooting a 12.5 hour wedding and collapsed in the living room with my friend, Becca, who had assisted me that day. We were just starting to relax when Zoey ran into the living room and started tossing a poor, little, perfectly-alive mouse around! No worries though, we caught the mouse, gave it some water & sunflower seeds, and released it back where it belonged.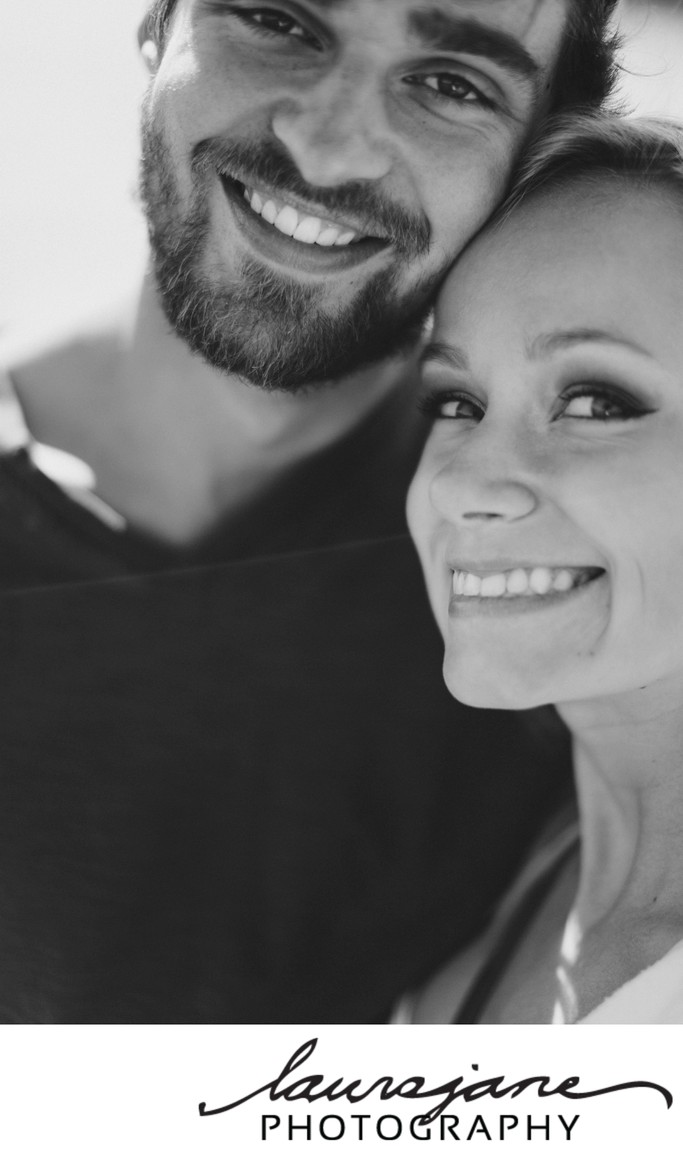 This is one of the first photos I have with Matt so it has a special place in my heart. It's also my first photo with him on my professional camera and a little print of it is always in my wallet. (I totally wrote his number on the back of the picture too incase my phone ever dies and I need to call him. I suck at memorizing numbers so this is how I deal haha!)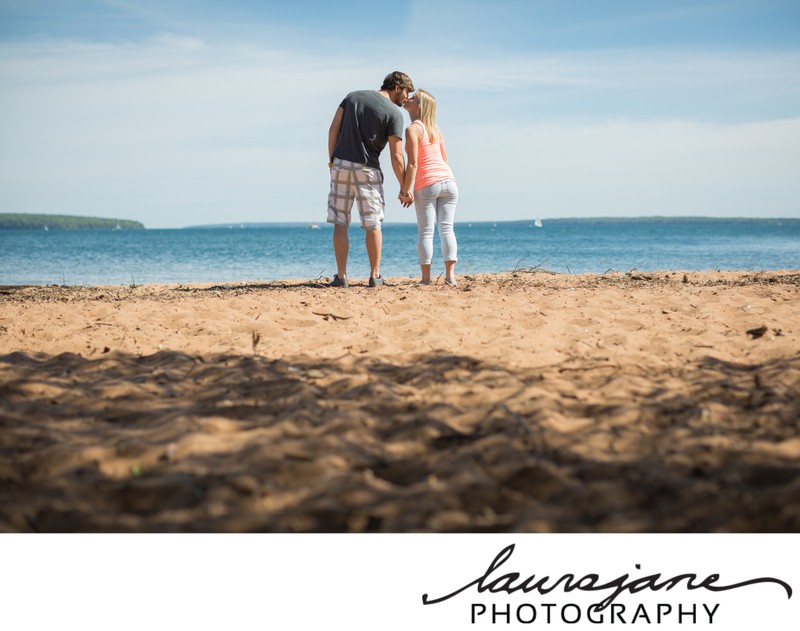 One-year anniversary & self-timers.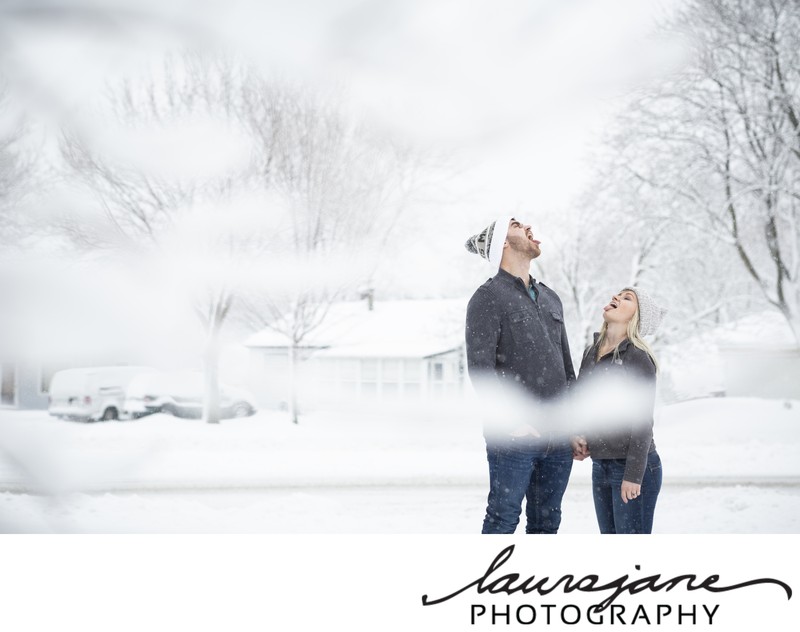 I'm originally from WI, but Matt's not. I know it's often hard to understand what brings people here with the harsh winters, polar vortexes, n' all, but he's from Illinois so just about anything's better, right?? jk!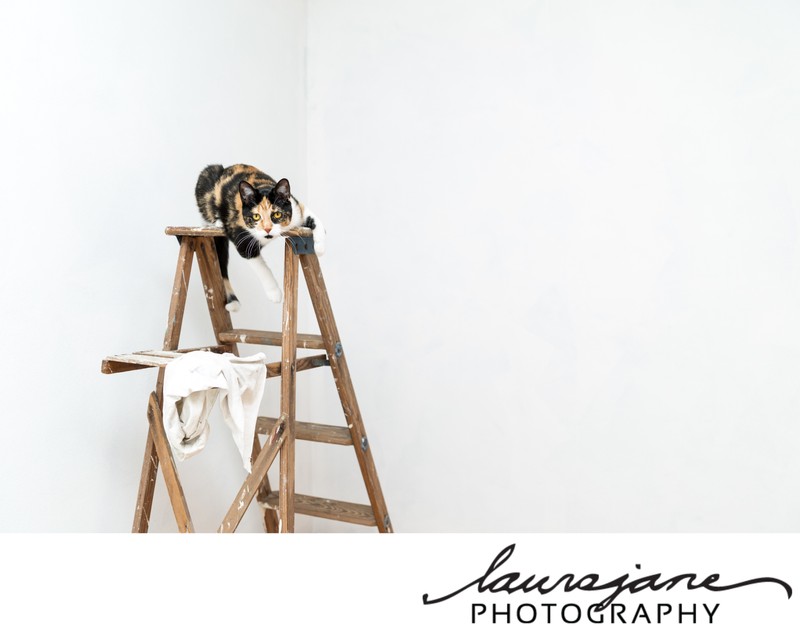 Have you ever tried painting a room with a cat who loves ladders? I have.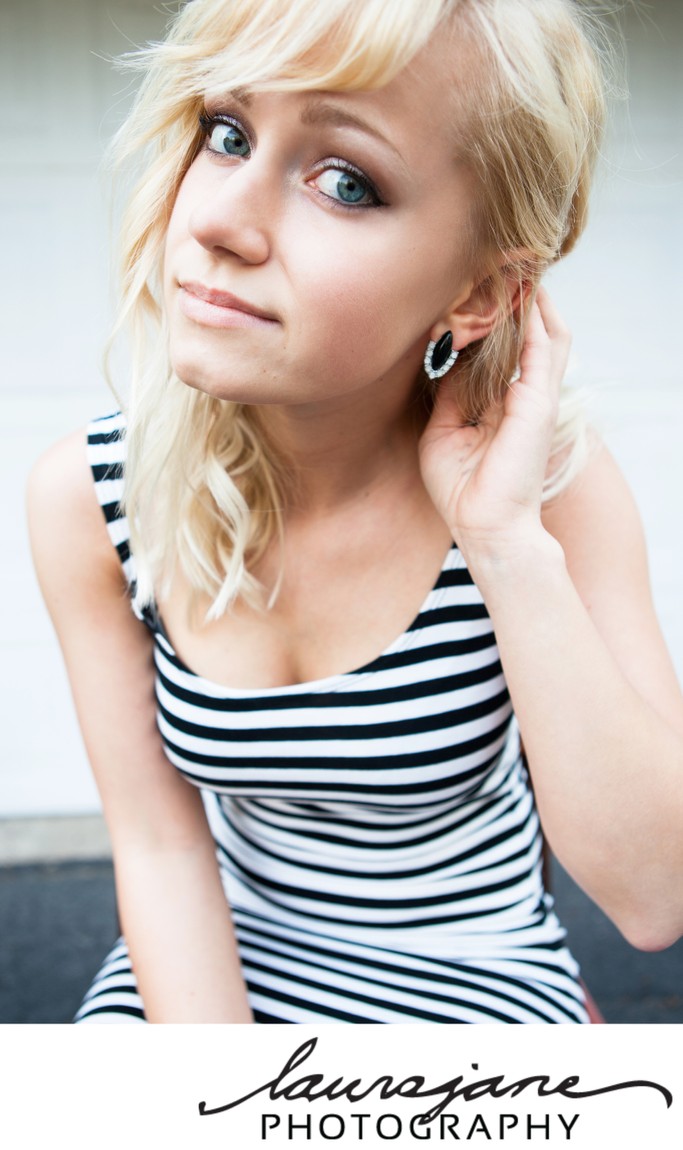 While I love neutrals for photo sessions, I love the occasional, tasteful wild pattern too. I tell this to all my clients! :) P.S. You'll probably never see me with curly hair. Takes too much time. :P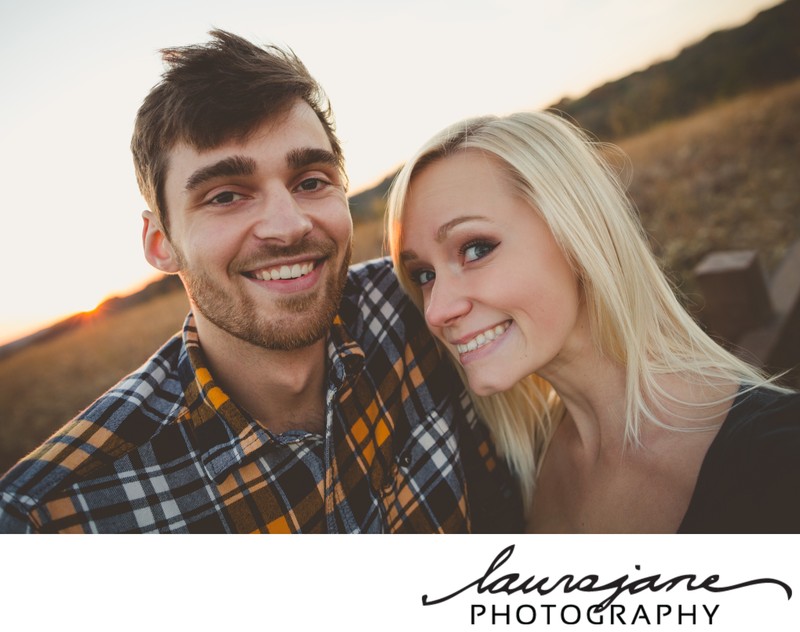 While waiting to photograph a dear friend's proposal, I snapped this one of us at Retzer Nature Park during sunset. This was when my friend was supposed to be there to get proposed to, but go figure she (a photographer as well) saw the nice light too and stayed at her photography gig later than planned!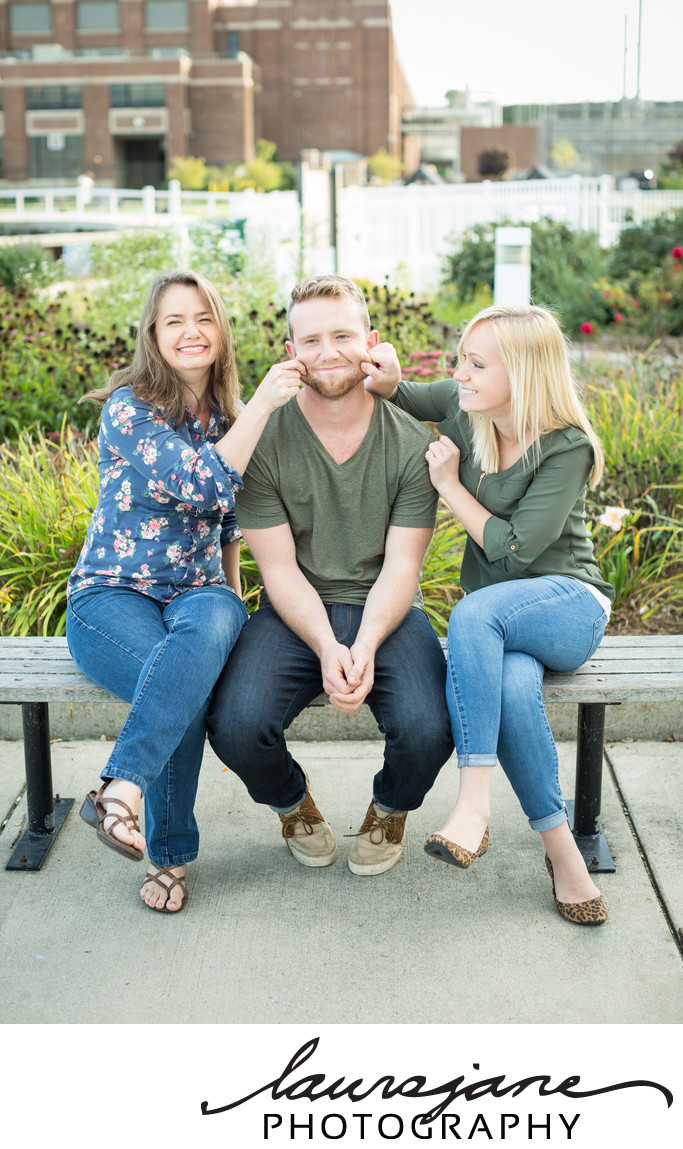 My siblings & me. Clearly my brother is a good sport but don't let him fool you. He picks on us just as much. :P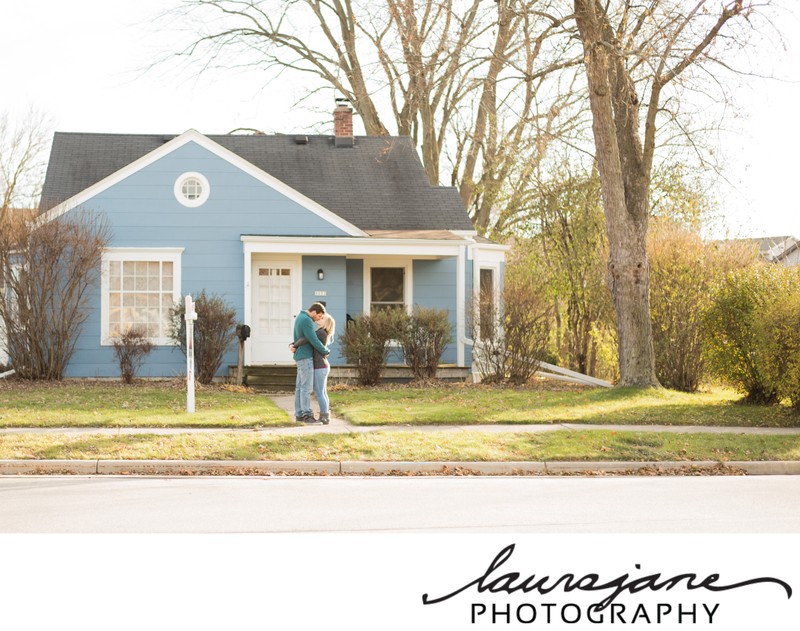 After we bought our first house in 2017! I couldn't have felt more blessed to have been able to afford a home with funds created by my passion...and it just so happened to be blue too! If you know me, you know just how much I love blue & teal haha!
(Photo Credit: Carley Below)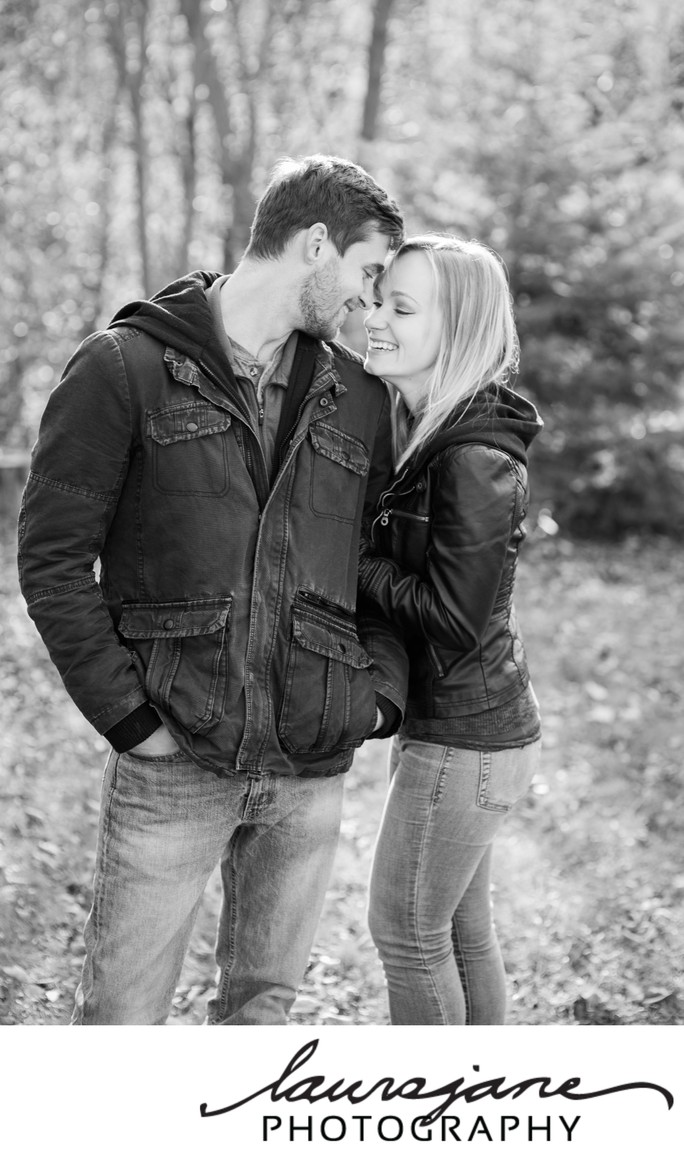 From our "First House" photo session. It's kind of cheesy that we had one done, I know, but when you work so hard for something you're allowed to celebrate. :P
(PC: Carley Below)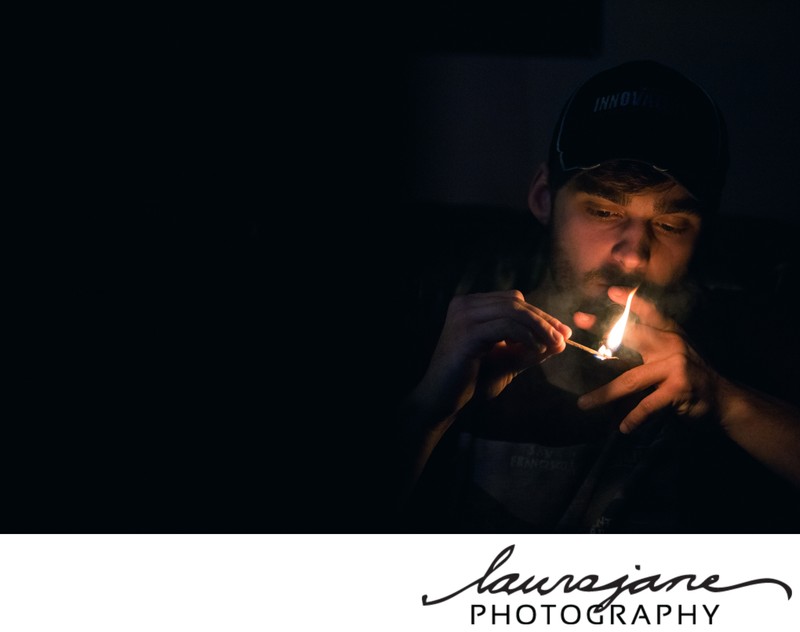 Captured at Nice Ash downtown Waukesha.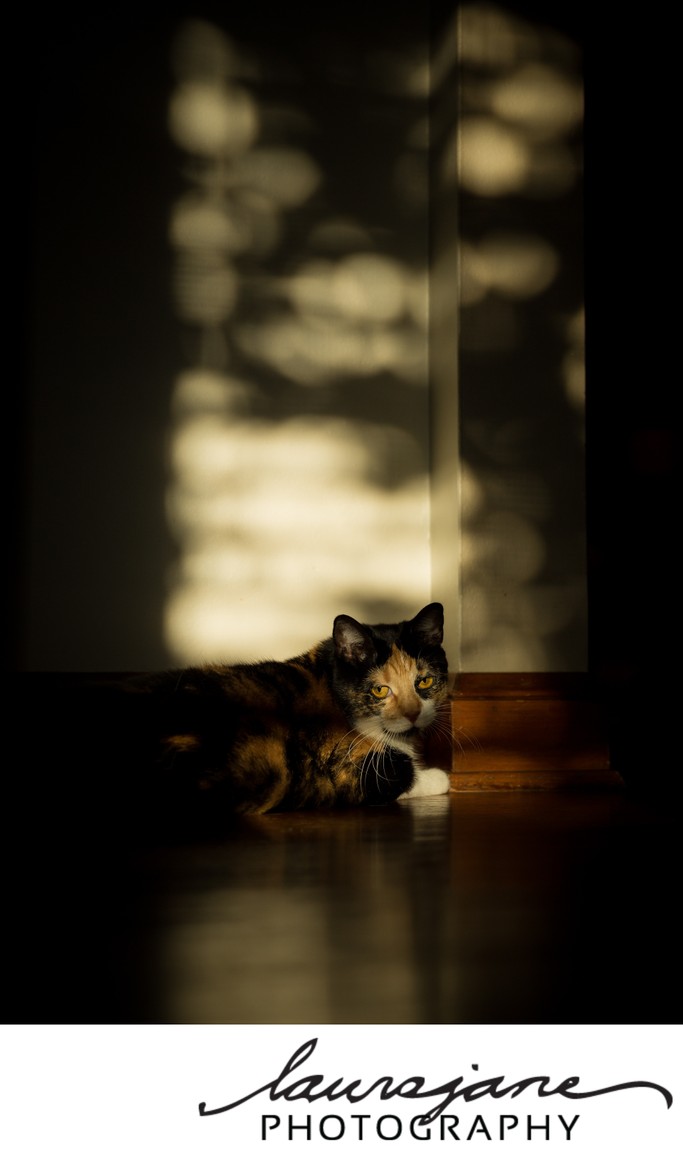 Fat little Yzma.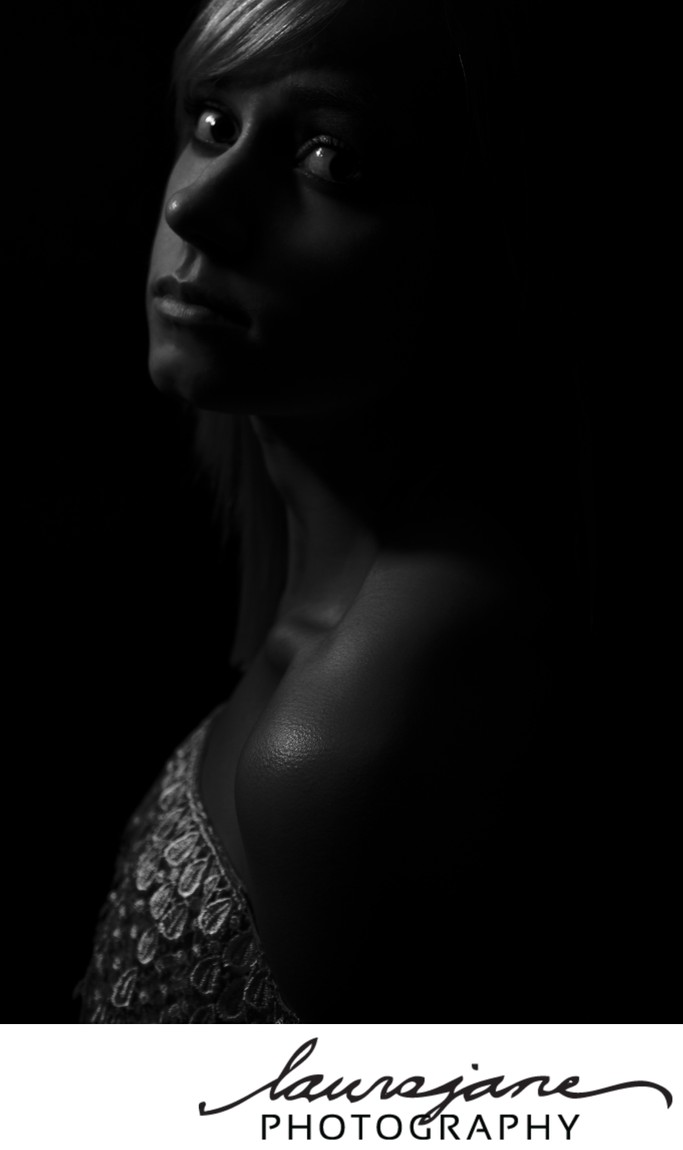 Don't worry I'm virtually never this serious! Just another portrait while practicing my lighting. There's a special little place in my heart for the occasional dramatic portrait!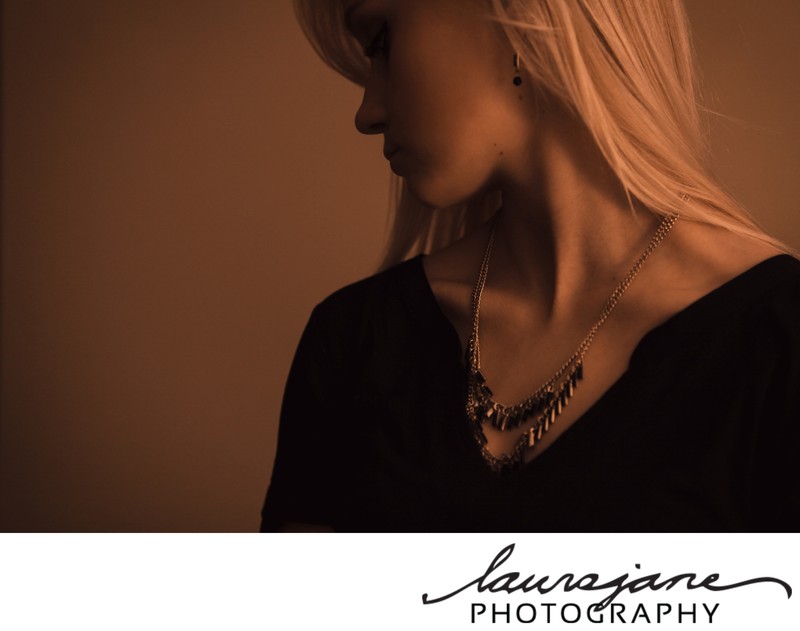 Incase you haven't caught on, most of my self portraits are just me trying to learn. Here I was playing with shadows & directional light.
Goofing off with wine & beer to ring in the coming summer of backyard parties & bonfires. These often take place after I'm done photographing long weddings, and even though I like to think I have boat-loads of energy I do tend to fall asleep in my hammock by the fire.
My take on a Valentine's Day selfie while testing out gelled flashes & aerosol spray.